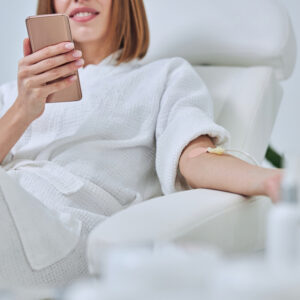 Dr. Alicia Hollis, a functional medicine doctor in Roanoke, VA offers state-of-the-art Ozone/UBI Therapy, a minimally-invasive procedure that may be able to help support patients' immune function and overall health. Please explore the informative sections below to learn more about this versatile therapy, and contact us today to schedule an appointment.
What Is Ozone/UBI Therapy?
Ozone therapy is designed to introduce a mixture of oxygen and ozone gas into the bloodstream, which can then stimulate the cells within the body to uptake more oxygen. This increased oxygenation may be able to boost cellular function, potentially increasing the body's resistance to infections, viruses, bacteria, inflammation, and other adverse health conditions.
Ultraviolet blood irradiation (UBI) involves drawing a small amount of blood from a patient, exposing it to a full-spectrum ultraviolet (UV) light, and then cycling it back into the body through an IV. It is believed that the UV light may be able to kill off harmful bacteria in the blood while also activating the immune system.
By combining these two processes into a single IV therapy option, patients may be able to see improvements in a variety of medical conditions and an enhancement of their overall wellness.
What Conditions Can Ozone Therapy Address?
Ozone therapy may serve as a beneficial option for patients with a variety of conditions, including:
Allergies
Autoimmune disorders
Bacterial, fungal, and viral infections
Chronic fatigue
Circulatory disorders
Cardiovascular disease
Inflammation
Joint pain
Lyme disease
Epstein-Barr Virus (EBV)
What Are the Potential Benefits of Ozone Therapy?
One of the primary benefits associated with ozone/UBI therapy is its potential to support the body's immune system, which can boost health outcomes. Many patients who have undergone ozone/UBI therapy with Dr. Hollis have experienced a number of different benefits, such as:
Improved energy
Improved immune function
Decrease in viral, bacterial, and fungal infections
Increase in oxygenation
Improved metabolic processes
Stimulation of the production of red blood cells
Decreased inflammation
Improved circulation
Decreased pain
Improved allergy symptoms
How Is Ozone/UBI Therapy Administered?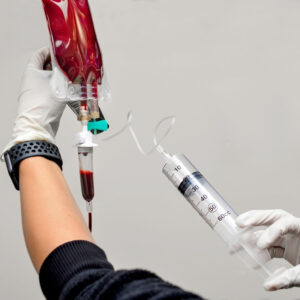 Ozone/UBI therapy combines ultraviolet blood irradiation (UBI) with the introduction of medical-grade oxygen to the bloodstream, and it is administered intravenously. During the procedure, a small amount of blood is drawn from the patient. The extracted blood is then infused with a combination of ozone gas and activated oxygen. Before being cycled back into the body through an IV, the treated blood is exposed to full-spectrum UV light.
Alternatively, ozone therapy (minus the UBI component) can also be administered via insufflation. Using this method, patients have a mixture of oxygen and ozone introduced directly into their body through the nose, ears, or rectum. Ozone insufflation may be beneficial for patients with sinus infections, among other conditions.
To learn more about ozone/UBI therapy, or to schedule a consultation with Dr. Hollis or our Nurse Practitioner, Sarah Whalen, NP-C, please contact us.
*Disclaimer About Ozone/UBI Therapy
The ozone/UBI therapies discussed on this page have not been evaluated by the U.S. Food & Drug Administration and are not a means by which to diagnose or treat a disease or condition, or to prevent or cure a disease or condition.